Not to be confused with The Wanderer (Character).
[1]
☣☣Welcome to the
The Wanderer Wiki!
☣☣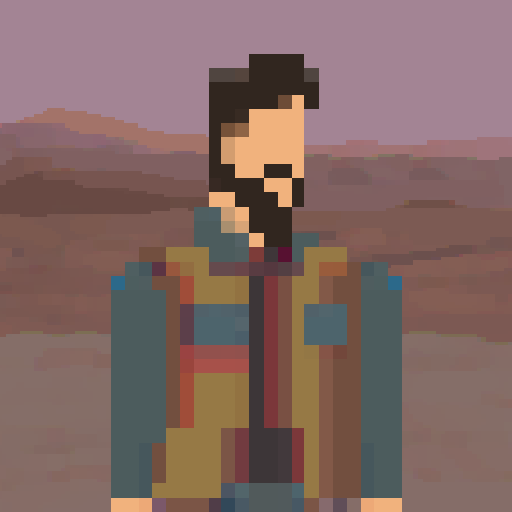 ☢ Text-Based Post Apocalyptic Survival
☢ Wander a harsh wasteland as one of the last remaining survivors of a post apocalyptic world.
☢ Scavenge, craft, and fight for survival
☢ Gather as you loot abandoned buildings and fight bandits and soldiers along with mutants.
☢ Trade caps with traveling traders or Local trader for weapons as you explore a vast map
☢ Find a canine companion to keep you company and search for supplies.
☢ Craft food, water, weapons and armor to help you stay alive
☢ Grow your camp for additional storage capacity
☢ Find missing camper van parts to rebuild it and make traveling easy
☢ Make tough decisions to help or leave other survivors while trying to balance your karma
☢ Fight bandits using a unique stat-based combat system
☢ Boost permanent perks using a dynamic growth system
☢ Conquer the lands and become the strongest survivor in the world

Items - A list of all the objects you can find in the game, and their buy and sell prices.
Perks - A list of all special abilities in the game and what they do.
Skills - A list of the player character's attributes, and what improves when you add points to them.
Locations - A list of all the places you may come across in the game.
Searchable Objects - A list of all the stuff you can look through in order to find items in the game.
Gameplay Mechanics - All the stuff that makes the game work, like skill points and vitals.
Mutations - A list of radiation-induced character-altering modifications in the game.
Events - A list of situations you may encounter in the game.
Achievements - The list of achievable goals in the game, and their point values on Android and iOS.
Here are the latest Version Updates.
-Radiation is now in specific spots on the map
-NEW Rad Radar crafting station to show radiation spots
-Radiation spots now change after 10 days
-Previously chosen weapons in fights will remember your choice unless you cannot use it
-Multiple saves slots (3 max)
(Saves still do not carry over with Game Center.)
-Quests can now completed via the quest panel and not have to go searching for the quest location
-Better quest output log on rewards earned
-Locations are more specific with their items that's relevant to that location
-Fast traveling fixed when over-encumbered
-Items can be stored for next exploration to make it quicker with re-exploring
-NEW Hospital location
-NEW Dog food item
-NEW Double barrel shotgun & Sawn-off shotgun
-NEW bat weapon & nailed bat weapon added
Fixed issue with already at location if you quit mid game
Improved fast traveling - you can now fast travel to known locations at a cost of caps
Added new purchase options in the store
Fixed issue with being able to craft more than one station - players will just need to place the stations down again. (consider this a free option to remove unwanted stations that would have cost 1000 caps)
v4.060 (iOS) | v4.064 (Android)

[

edit

|

edit source

]
Fixed issue with build slot being off screen to the left
Fixed issue with giving the pet the items and it not taking it from the player
Giving water to pets now gives you the empty bottle
Added a better UX to the craft options so you know exactly which one you are using
Added a fast travel option back to camp
Fixed issue with quest progression
Fixed issue with finding petrol cans still
Added a on screen notification for some events when finding items
Fixed issue with camp trader not positioned properly on some devices
Adjusted illness. Illness doesn't take health but it increases the rate of hunger and thirst
Added back in additional travel times for the Tank mutation
Android Link:
https://play.google.com/store/apps/details?id=com.JamieParish.TheWanderer
IOS Link:
https://itunes.apple.com/us/app/the-wanderer/id1365548683?ls=1&mt=8
Web-browser Link:
https://www.newgrounds.com/portal/view/708714
Community content is available under
CC-BY-SA
unless otherwise noted.